Share
Issue Time

Jul 26,2023
Summary
Josoo to Showcase Wine Cooler at IFA Global Markets 2023.Booth No.: Wine cooler / H10.1-309/311 Rice cooker /Hall 11.1-611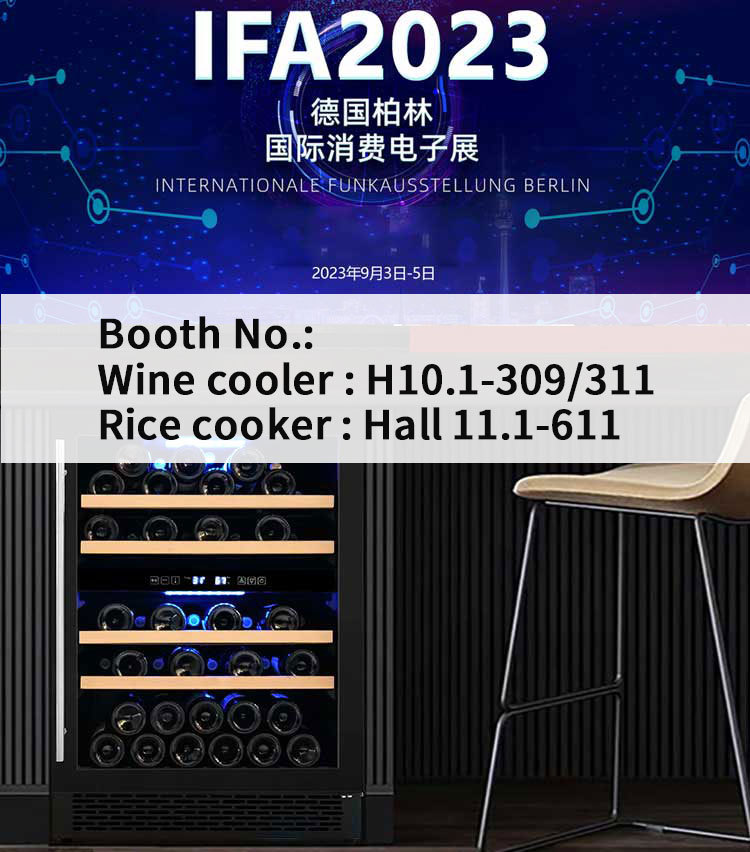 Invitation to IFA Exhibition in Germany
We cordially invite you to attend the upcoming IFA Exhibition, which will be held in Germany from September 3rd to 5th, 2023. As a leading global
appliance manufacturer,
Applause Electronics Company will showcase our latest innovative products and technologies at this event.
We will have two booths at the exhibition:
Wine Cooler
Booth: H10.1-309/311 and Rice Cooker Booth: Hall 11.1-611. This is a rare opportunity for you to personally experience our products and learn about our brand philosophy.
At the Wine Cooler Booth, we will display a range of high-quality and fully-featured wine coolers. Whether you are a wine enthusiast or a professional, our products can meet your needs. Our wine coolers utilize advanced temperature control technology to ensure that your wines always maintain optimal quality and taste. Additionally, we will showcase some creatively designed wine coolers that can integrate your collection into your living space.
At the Rice Cooker Booth, we will showcase a series of intelligent and efficient rice cooker products. Our rice cookers employ advanced cooking technology to effortlessly prepare delicious rice and a variety of exquisite dishes. Whether you are a cooking novice or a chef, our rice cookers can meet your needs and provide you with convenience and culinary enjoyment.
Furthermore, we will also exhibit other appliances, including coffee machines, juicers, and electric rice cookers. Our products are renowned for their exceptional quality, innovative design, and reliable performance. Our team will be present at the exhibition to provide detailed product introductions, demonstrations, and answer any questions you may have.
We sincerely invite all customers interested in appliances to visit our booths. This will be an excellent opportunity to network with industry experts and peers, allowing you to stay updated on the latest market trends and technological developments. We look forward to discussing potential collaborations with you and providing you with the highest quality products and services.
Please remember that the IFA Exhibition will take place from September 3rd to 5th, 2023, in Germany. Our Wine Cooler Booth is located at H10.1-309/311, and the Rice Cooker Booth is located at Hall 11.1-611. We eagerly await your presence! Let us together embark on a new chapter in the world of appliances!