The Rise of Mini Beverage Coolers: Compact Cooling Solutions for Small Spaces
Share
Issue Time

Jul 5,2023
Summary
The rise of the mini beverage cooler provides a convenient and stylish solution for tight spaces. Below we explore the benefits, types, and more of the increasingly popular mini beverage coolers.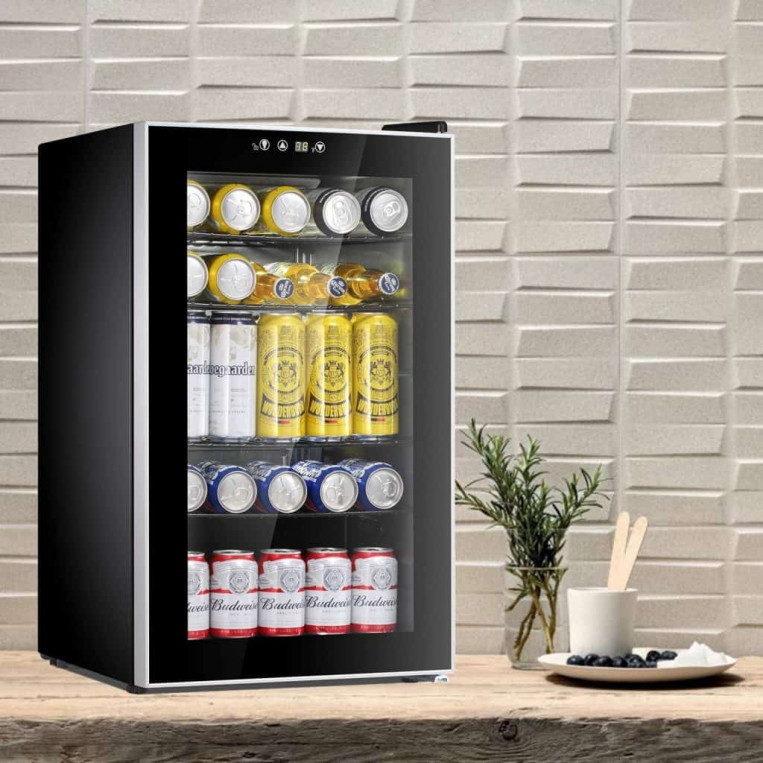 Are you tired of cluttering your refrigerator with bottles and cans, leaving little room for your favorite snacks and groceries? If so, you're not alone. Many people face the challenge of finding adequate storage space for their beverages, especially in small living areas. Luckily, the rise of mini beverage coolers offers a convenient and stylish solution to this problem. In this article, we will explore the growing popularity of mini beverage coolers and how they provide compact cooling solutions for small spaces.
Introduction: The Need for Compact Cooling Solutions
With the increasing popularity of compact living spaces and the rising demand for convenience, there is a growing need for compact cooling solutions. Traditional refrigerators often lack the space required to store a variety of beverages, leading to overcrowding and disorganization. This is where mini beverage coolers step in, offering a dedicated space for keeping drinks cool without compromising on style or functionality.
Understanding Mini Beverage Coolers
Mini beverage coolers, also known as beverage refrigerators or drinks fridges, are compact appliances designed specifically for chilling beverages. They are smaller in size compared to standard refrigerators but offer similar cooling capabilities. These
beverage

cooler

s
are equipped with features like temperature control, adjustable shelves, and glass doors to provide an optimal environment for storing beverages.
Benefits of Mini Beverage Coolers
Mini beverage coolers come with a range of benefits that make them an attractive option for individuals and businesses alike. Here are some key advantages:
Space-saving: Mini beverage coolers are designed to fit seamlessly into small spaces, making them ideal for apartments, dorm rooms, offices, and other compact environments.
Convenience: Having a dedicated beverage cooler allows for easy access to drinks without having to search through a crowded refrigerator. This convenience is especially valuable when entertaining guests or hosting parties.
Temperature Control: Mini beverage coolers offer precise temperature control, ensuring that your beverages are kept at the perfect temperature for maximum enjoyment.
Energy Efficiency: These coolers are designed to be energy-efficient, consuming less power compared to larger refrigerators. This not only helps reduce utility bills but also minimizes environmental impact.
Types of Mini Beverage Coolers
1. Freestanding Mini Beverage Coolers
Freestanding mini beverage coolers are standalone units that can be placed anywhere in your living space. They are versatile and easy to move, allowing you to reposition them as needed. These coolers often have a compact size, making them ideal for small kitchens, bedrooms, or even outdoor areas. With their sleek designs and various color options, freestanding mini beverage coolers can add a touch of style to any space.
2. Built-in Mini Beverage Coolers
Built-in mini beverage coolers are designed to be seamlessly integrated into your kitchen cabinets or other built-in storage units. They offer a more streamlined and cohesive look, as they blend in with the surrounding cabinetry. Built-in coolers are a popular choice for those who prioritize aesthetics and want a customized, built-in solution for their beverage storage needs.
3. Countertop Mini Beverage Coolers
If you have limited floor space, countertop mini beverage coolers are an excellent option. These compact coolers are designed to sit on your countertop or any other flat surface, providing easy access to your favorite beverages. Countertop coolers are often smaller in size and can hold a limited number of cans or bottles. They are perfect for small apartments, offices, or even for use in RVs or boats.
Factors to Consider When Choosing a Mini Beverage Cooler
When selecting a mini beverage cooler, several factors should be taken into account to ensure you choose the right one for your needs. Here are some essential considerations:
1. Capacity and Size
Evaluate the capacity and size of the cooler to determine if it can accommodate the number of beverages you typically store. Consider the available space in your living area and choose a size that fits appropriately without being too bulky.
2. Temperature Control
Look for a mini beverage cooler with precise temperature control settings. This allows you to adjust the temperature according to the specific requirements of different beverages, such as wine, beer, or soda.
3. Energy Efficiency
Opt for a mini beverage cooler with an Energy Star rating or other energy-efficient features. This ensures that the cooler operates efficiently, reducing energy consumption and minimizing its impact on the environment.
4. Noise Level
Consider the noise level produced by the cooler, especially if you plan to place it in a quiet area like a bedroom or home office. Look for coolers that are designed to operate quietly to avoid any disturbances.
5. Design and Aesthetics
Choose a mini beverage cooler that complements your existing décor and personal style. Consider the exterior finish, door design (solid or glass), and any additional features that enhance its overall appearance.
Integration of Mini Beverage Coolers in Various Settings
Mini beverage coolers can be seamlessly integrated into different settings, enhancing both functionality and aesthetics. Let's explore some common areas where these coolers are utilized:
1. Home Kitchens
In residential kitchens, mini beverage coolers serve as dedicated spaces for storing chilled beverages. They can be placed under countertops, in kitchen islands, or as standalone units. This ensures easy access to refreshments while keeping the main refrigerator free for food storage.
2. Offices and Workplaces
Many offices and workplaces have embraced the convenience of mini beverage coolers. These coolers provide employees with quick access to refreshing drinks, promoting productivity and creating a pleasant work environment. They can be placed in break rooms, conference rooms, or shared spaces.
3. Entertainment Areas
Whether it's a home bar, media room, or game room, mini beverage coolers are excellent additions to entertainment areas. They keep beverages within arm's reach, allowing hosts and guests to enjoy their favorite drinks without interrupting the entertainment experience.
4. Outdoor Spaces
Outdoor gatherings and events can benefit from mini beverage coolers designed for outdoor use. These coolers are built to withstand various weather conditions and provide a refreshing solution for backyard parties, barbecues, or poolside lounging.
Conclusion
The rise of mini beverage coolers has revolutionized the way we store and access our favorite drinks. These compact cooling solutions offer convenience, style, and efficient temperature control for small living spaces. Whether you're a homeowner, office worker, or avid entertainer, a mini beverage cooler can be a valuable addition to your environment, ensuring that refreshing beverages are always within reach.
The above briefly introduces the benefits and necessity of the mini beverage cooler. If you want to buy a beverage cooler, please
contact us
.
As a professional
custom beverage cooler manufacturer
, Josoo specializes in the production of beverage coolers/wine coolers/beer coolers/cigar coolers/ice makers/dry refrigerators, and other kitchen appliances. The products are certified and reported by GS/CE/ETL/ERP/ROHS/REACH/DOE/CB. We have a strong technical team with more than 15 years of experience in the wine cabinet industry, and our products are carefully designed and innovated to meet different customized OEM needs.