How to Find Wine Cooler Manufacturer in China?
Share
Issue Time

May 30,2023
Summary
As a global manufacturing center, China offers a wide range of options for purchasing wine cabinets. This article will guide you through the process of finding a wine cabinet manufacturer in China.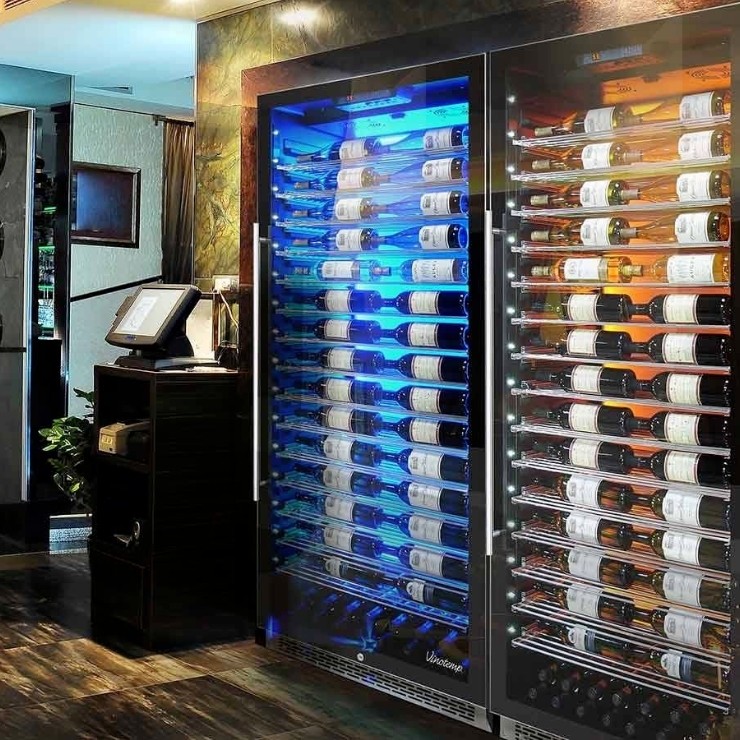 As the demand for wine coolers continues to rise, finding reliable and quality manufacturers has become crucial for businesses in the industry. As a global manufacturing center, China offers a wide range of options for purchasing wine cabinets. This article will guide you through the process of finding a wine cabinet manufacturer in China and help you make an informed decision for your business.
Why China is a Popular Choice for Wine Cabinet Manufacturers
China has become a leader in manufacturing, with the expertise to produce a wide range of products at competitive prices. In terms of wine cabinets, Chinese manufacturers have the following advantages:
Cost-effectiveness:
Due to economies of scale, lower labor costs, and access to raw materials, Chinese manufacturers can often produce
wine coolers
at a lower cost.
Manufacturing Capabilities: China has a vast network of factories equipped with advanced machinery and skilled labor capable of mass-producing wine cabinets.
Supply Chain Efficiency: China's complete supply chain infrastructure ensures smooth logistics and timely delivery of products to international markets.
Research Chinese Wine Cabinet Manufacturers
Thorough research must be done to identify potential wine cooler manufacturers in China before diving into the selection process. Here are some effective strategies:
Online Catalogs and Platforms
Online directories and platforms such as Alibaba, Global Sources, and Made in China are valuable resources for finding manufacturers. These platforms allow you to search for specific product categories, compare suppliers and read customer reviews.
Trade Shows and Exhibitions
Attending trade shows and exhibitions related to the wine industry is another effective way to network with Chinese wine cabinet manufacturers. These events provide opportunities to meet manufacturers face-to-face, view samples of their products and discuss potential partnerships.
Local Business Networks and Associations
Networking in local business networks and associations can create valuable connections with wine cooler manufacturers in China. Chambers of commerce, industry-specific associations, and trade organizations often have directories or membership lists that can be helpful in finding reputable manufacturers.
Evaluate Wine Cabinet Manufacturers
Once potential manufacturers have been identified, it is critical to thoroughly evaluate them to ensure they meet your quality standards and business requirements. Consider the following factors:
Quality Standards and Certifications
Check that the manufacturer adheres to international quality standards and holds relevant certifications, such as ISO 9001. This ensures that the wine cabinets they produce meet the required quality benchmarks.
Manufacturing Capabilities and Capacity
Assess a manufacturer's production capabilities, including their lines, machines, and capacities. Make sure they have the necessary infrastructure to handle your order volume and meet your delivery schedules.
Customer Reviews and Testimonials
Look for customer reviews and testimonials to gauge a manufacturer's reputation and customer satisfaction. Positive feedback and references from other businesses can provide valuable insight into its reliability and professionalism.
Communication and Negotiation with Potential Manufacturers
Clear and effective communication is the key to a successful partnership with a Chinese wine cabinet manufacturer. Consider the following aspects:
Language Considerations
Language barriers can create communication challenges. Make sure the manufacturer has English-speaking staff or consider hiring local interpreters to facilitate smooth discussions and avoid misunderstandings.
Effective Communication Channels
Determine the communication channel that is most convenient for both parties, such as email, telephone or video conferencing. Timely and responsive communication is critical to building trust and maintaining productive relationships.
Request Samples and Prototypes
Request a sample or prototype of the wine cabinet you intend to build to evaluate its quality, design and functionality. This step helps you make an informed decision and ensures that the final product meets your expectations.
Evaluate Pricing and Logistics
Understanding pricing structures and logistics is critical to budgeting and planning. Consider the following factors:
Understand the Pricing Structure
Discuss pricing details with potential manufacturers, including unit cost, volume order discounts, and any additional charges such as tooling or customization charges. Compare quotes from multiple manufacturers to ensure a competitive price.
Shipping and Import/Export Regulations
Familiarize yourself with shipping options, import and export regulations, and any duties or taxes associated with importing wine cabinets from China. Consider working with a freight forwarder or logistics partner to resolve these complexities.
Packaging and Labeling Requirements
Discuss packaging options and labeling requirements with the manufacturer. Make sure the packaging protects the wine cabinet during shipping and complies with the regulations of the target market.
Complete Cooperation
Once you've gone through the evaluation process and narrowed down your options, it's time to finalize your partnership with a wine cabinet manufacturer in China. Consider the following steps:
Negotiating Terms and Contracts
Negotiate the terms of the partnership, including pricing, order quantities, delivery schedules, and payment terms. Make sure all agreements are clearly spelled out in a written contract to avoid any misunderstandings or disputes in the future.
Quality Control and Assurance
Establish clear quality control procedures to ensure wine cabinets meet your specifications and quality standards. Regular inspections and quality checks during the manufacturing process help maintain consistent product quality.
Long-Term Cooperation and Support
Build a relationship with your chosen manufacturer based on trust and open communication. Stay in regular contact, provide feedback and explore opportunities for long-term collaboration, such as product improvements or customization options.
In Conclusion
Finding wine cooler manufacturers in China requires in-depth research, evaluation, and effective communication. By using online directories, attending trade shows, and utilizing your local network, you can connect with reliable manufacturers. Evaluating factors such as quality standards, manufacturing capabilities, and customer reviews can help make an informed decision. Clear communication, requesting samples, and understanding pricing and logistics are essential during the selection process. Protecting intellectual property and working with a reputable manufacturer ensures a strong partnership. Finally, finalize partnerships through negotiations, establish quality control measures, and foster long-term collaborations that lay the foundation for successful business relationships. If you are looking for a wine cabinet manufacturer, welcome to
contact us
.
As a
custom wine cooler manufacturer
for professionals, Josoo specializes in the production of beverage coolers/wine coolers/beer coolers/cigar coolers/ice makers/dry refrigerators and other kitchen appliances. The products are certified and reported by GS/CE/ETL/ERP/ROHS/REACH/DOE/CB. We have a strong technical team with more than 15 years of experience in the wine cabinet industry, and our products are carefully designed and innovated to meet different customized OEM needs.