Top 10 Reasons to Add a Beverage Cooler to Your Space
Share
Issue Time

May 9,2023
Summary
Beverage coolers can make an impressive luxurious and space-saving addition to remodeled kitchens, dens, and other areas. Read on to learn a few reasons to add a beverage cooler to your home.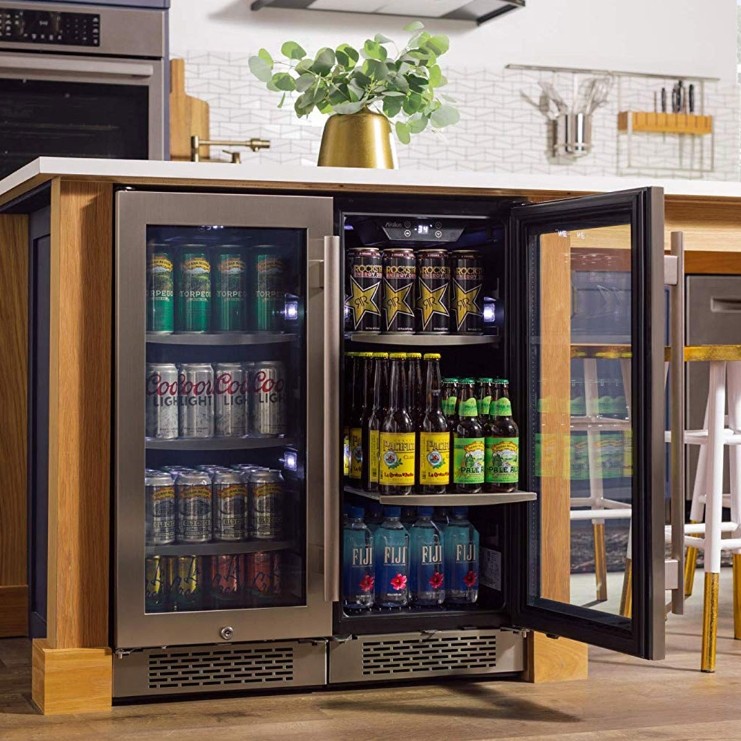 Whether you're remodeling, upgrading your outdoor kitchen, or looking to save refrigerator space, beverage coolers provide an impressive luxury and space-saving addition to remodeled kitchens, dens, basements, wet bars, pantries, and outdoor patio areas.
Easy to Grab a Cold Beer
Grabbing your favorite cold brew in your den, by your backyard pool, or at any of your favorite football games has never been easier than using a beverage cooler. The beverage cooler goes down to 32 degrees Fahrenheit and maintains the internal temperature with an internal cooling condenser, so you know your favorite beer will be frosty.
Extended Family
Large families tend to buy in bulk, which can strain refrigerator space. Beverage coolers provide all your favorite beverages for kids such as juices, sports drinks, and water bottles in the den, media area, kitchen, or pantry. The beverage cooler holds as few as 90 12 oz cans and as many as 150 12 oz cans.
Quick Access to Drinks in the Man Cave
A man cave is a sanctuary, especially when football season starts. When it's time to grab your favorite beverage from the beverage cooler. Not only can the beverage cooler chill your favorite beverage but it is also designed with a slide-out removable shelf to help you better keep your beverages in it for more convenience. They are the perfect addition to any basement or garage man cave.
Access to Minors/Restrict Unauthorized Use
Many beverage coolers now come with safety features that help you limit exposure to the beverage inside the cooler. Some coolers now have pop-up locks that lock the cooler door. This will keep minors away and limit access to the cooler if you are storing beer or wine. This is a feature that many customers like because they cannot lock the refrigerator. If you have minors (or roommates) in the house and need a place to keep your alcohol at the ideal temperature, look for a locking beverage cooler.
Party Stay in the Room
Often socializing? Running to the kitchen or basement fridge to fill up more drinks is a hassle. Why keep customers waiting? The solution to keeping the party going is as simple as installing a beverage cooler near your entertainment area and stocking up on your favorite drinks for the duration of the party.
Focal/Decorative Enhancements
Beverage coolers don't just provide practical storage solutions; they can also add a decorative touch to your home. The beautiful brushed, polished stainless steel exterior, stylish towel bar handle, and interior lighting make it a designer focal point and truly "wow" guests.
Renovation/Remodeling
With recent improvements to home remodeling and renovations, outdoor kitchens and interiors are becoming more designer-looking as homeowners are investing more in improving their spaces. This rise in home improvement has opened up new avenues for beverage coolers at home, as coolers have a wide variety of applications. Built-in or freestanding coolers have reversible doors that swing out for better placement and can be installed on outdoor patios/kitchens, wet bars, kitchen islands, and pantries.
Basement Dweller
Beverage coolers are a great option if you've recently converted your basement into a new entertainment area, or if the basement is being used as additional storage space. The smaller, compact design means it takes up less space than a traditional refrigerator for storage. Keep one in your basement and avoid running upstairs to buy extra drinks.
University Dormitory
Send your favorite college kids back to school with their very own drink cooler. Beverage coolers come in different sizes and offer different storage capacities.
Cooler by the Pool
Most notably the drink coolers by the pool. Upgrade your covered outdoor deck or patio with an outdoor beverage cooler. Outdoor beverage coolers are designed to withstand outdoor temperatures and often feature a tinted or all-stainless front to help preserve beverage quality. Beverage coolers can also be used as a place to keep picnic condiments, a place to temporarily store roasts, and great for parties.
Any Question?
Choosing the ideal beverage cooler for your home can be daunting. Depending on your needs, there are various options to choose from. As a professional
custom beverage cooler manufacturer
, Josoo specializes in the production of beverage coolers/wine coolers/beer coolers/cigar coolers/ice makers/dry refrigerators, and other kitchen appliances. The products are certified and reported by GS/CE/ETL/ERP/ROHS/REACH/DOE/CB. We have a strong technical team with more than 15 years of experience in the wine cabinet industry, and our products are carefully designed and innovated to meet different customized OEM needs. If you want to buy products such as beverage coolers or wine cabinets, please
contact us
.