7 Frequently Asked Questions About Beverage Refrigerators Answered
Share
Issue Time

May 5,2023
Summary
There are many things to consider when buying a beverage refrigerator. Fortunately, this guide will answer some of the most frequently asked questions to help you choose the right beverage cooler.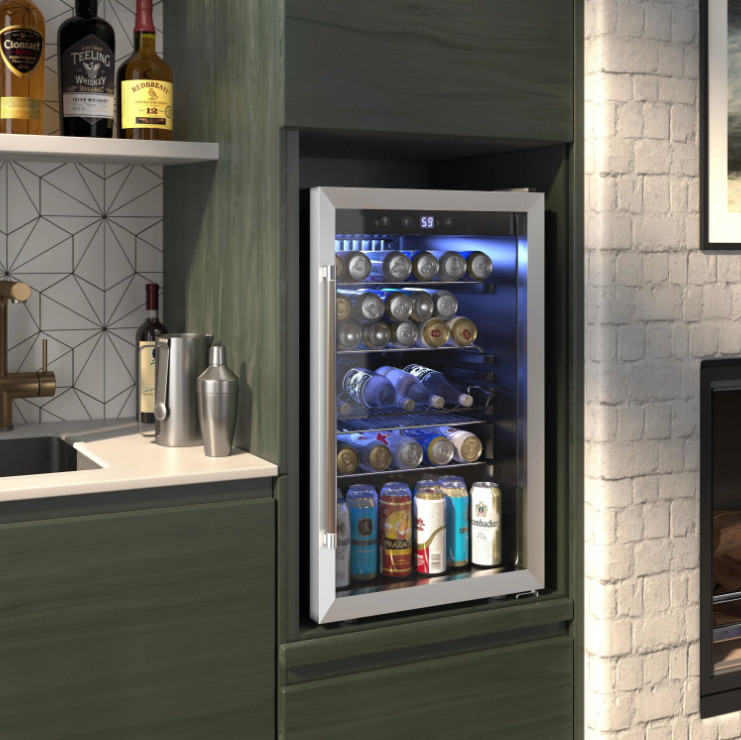 There are many things to consider when buying a beverage refrigerator. Fortunately, this guide will answer some of the most frequently asked questions to help you choose the right beverage cooler.
Here are seven common questions buyers have as they prepare to buy the right commercial beverage refrigerator for them.
Beverage refrigerators allow you to store cold beverages away from the main refrigerator. These unique refrigerators or beverage centers maintain the optimum temperature for all beverages including wine, beer, and more.
Plus, although sizes vary widely, most of these products are easily portable and can be installed in many places in your home. These coolers offer the flexibility to be used indoors or outdoors and offer adjustable settings that allow you to cool certain types of produce, such as beer or wine, to the optimum temperature.
What Type of Beverage Refrigerator Do I Need?
With a wide range of sizes and options, you will undoubtedly find the model that best suits your use. However, these types of appliances are usually freestanding or built-in.
Freestanding beverage coolers can be placed indoors or outdoors anywhere that has a suitable electrical outlet to power them. Built-in beverage coolers require special installation but can be customized to fit a specific space for seamless integration.
Depending on the purpose, the types of beverages to be stored, and the number of bottles of each beverage, you can find a variety of refrigerators to choose from.
What Are the Standard Dimensions for a Beverage Refrigerator?
Beverage refrigerators come in small, medium, and large sizes. Smaller capacity fridges can hold up to about 60 cans, making them ideal for one to two people, while medium-sized fridges can store 80 to 100 cans. Larger units can hold 150 cans or more.
Where Can I Put My Beverage Cooler?
One of the benefits of owning a beverage refrigerator is flexibility in placement and capacity. Smaller than traditional refrigerators, these units are perfect for offices, game rooms, family rooms, home theaters, outdoor patios, home bars, and many other places. Built-in or under-counter beverage refrigerators can even be installed in cabinets in kitchens or home bars.
How Should I Maintain My Beverage Refrigerator?
Maintenance of the product will depend on its design and built-in features, such as whether it has manual defrost or automatic defrost. A manual defrost unit requires more attention as it must be emptied of all contents and then unplugged to defrost.
However, in an automatic defrost product, the internal coil is heated periodically to remove any ice or frost buildup. These refrigerators only need a light wipe down of the rear coils about every six months to prevent dust buildup.
What Special Features or Security Options Do They Have?
The most popular accessories on beverage refrigerators include digital temperature controls, LED lighting, and reversible doors. When it comes to security options, almost every vendor offers models with security locks.
Digital temperature control allows precise temperature adjustment and readout. LED lighting is energy efficient and cost-effective, typically using less current and lasting longer than traditional cold lighting. Dual-sided doors allow for flexible adjustment of items as the front door hinges and open in either direction.
How Much Do These Appliances Cost?
Price ranges depend on the size and features added to your beverage fridge. The cheapest small models can be had for as low as $170, while high-end or business-grade models can be had for around $2,000.
Get Your Beverage Refrigerator From Josoo
Josoo is a professional
custom beverage cooler manufacturer
. Specializing in the production of beverage coolers/wine coolers/beer coolers/humidors/ice makers/dry refrigerators and other kitchen appliances. The products are certified and reported by GS/CE/ETL/ERP/ROHS/REACH/DOE/CB. We have a strong technical team with more than 15 years of experience in the wine cabinet industry, and our products are carefully designed and innovated to meet the needs of different customized OEMs. If you want to buy a beverage cooler, welcome to
contact us
.