Josoo's Successful Exhibition at the April Canton Fair Showcases Home Appliances and Wine Cellars
Share
publisher

Zhongshan Josoo Electric Appliance Co., Ltd.
Issue Time

Apr 22,2023
Summary
There are different types of wine cabinets, and today we are going to talk about under-counter wine cabinets. Read on for our guide to under-counter wine cabinets to learn more about them.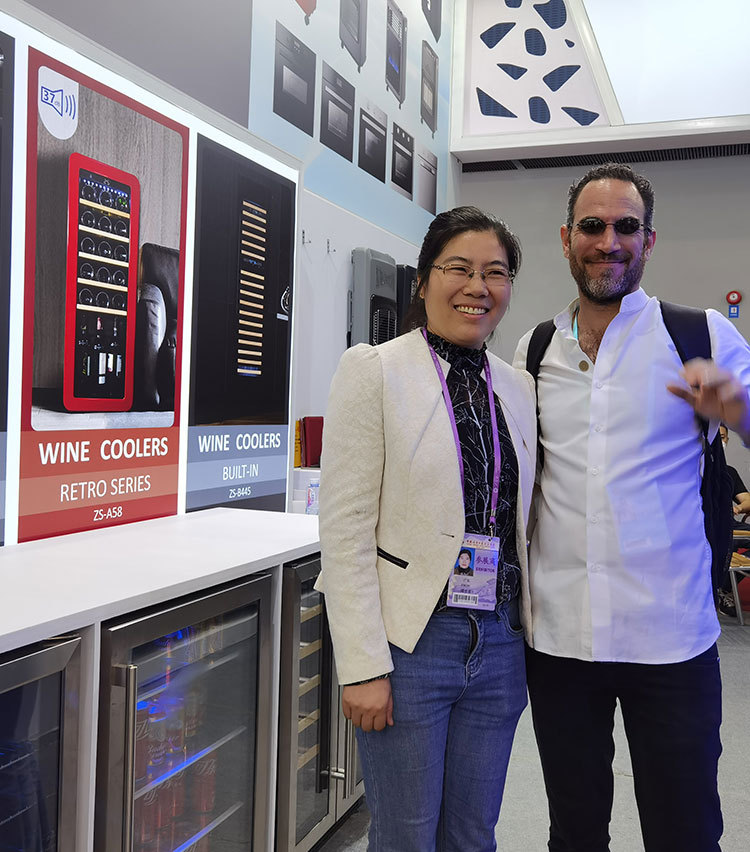 Josoo, a leading manufacturer of home appliances and wine cellars, recently showcased their latest products and technologies at the April Canton Fair. The exhibition featured a range of cutting-edge designs and innovations in the industry, as well as expert talks and activities.
Josoo's display drew the attention of many attendees, including potential customers and industry peers. Many clients visited Josoo's booth to see their factory and discuss potential business ventures. Josoo's representatives were able to establish important partnerships and exchange ideas with other professionals in the field.
In this Canton Fair, our main products on display are under-counter wine cooler:
A150L beverage coolers
,
A150L wine fridge
,
B120 double temperature wine refrigerator
, freestanding wine cellar:
A58 vintage red wine stand
,
A40 small cigar humidors
, built-in and freestanding
large wine cooler A450
, product highlights, three-color light switch, long open door alarm, open the door and light up.
The exhibition was an exceptional success for Josoo, showcasing the latest designs and technologies in the home appliance and wine cellar sectors. Exhibitors presented their best products, as well as cutting-edge innovations that will continue to lead the industry forward. The event featured a range of expert talks and activities, including lectures by celebrity guests, expert forums, and wine-tasting events.
Exhibitors and attendees alike were thoroughly engaged, enjoying and exploring the fun and innovative spirit of the exhibition. Many exhibitors noted that they gained significant returns from the event, not only exchanging ideas and establishing partnerships with their peers, but also showcasing their best products and technologies to attendees.
At the same time, attendees responded enthusiastically to the exhibition, having the opportunity to experience firsthand the convenience and comfort that the latest home appliance and wine cellar technologies bring. We believe that this exhibition will be an important milestone in the home appliance and wine cellar industries, leading the way for future development. Who received a lot of positive feedback from attendees and peers alike. Their products and innovative designs were highly praised, and many expressed their confidence in Josoo's future growth and success.
"We are thrilled with the success of our exhibition at the April Canton Fair," said a representative from Josoo. "We are proud to showcase our latest products and technologies, and we are excited to continue pushing the boundaries of innovation in the home appliance and wine cellar industries."
Overall, Josoo's successful exhibition at the April Canton Fair demonstrates their commitment to providing high-quality products and driving innovation in the home appliance and wine cellar industries. They look forward to continued growth and success in the future.
We look forward to the next exhibition, where we can continue to showcase the latest in innovative technology and design, and provide everyone with limitless potential.