Under-Counter Wine Coolers - Our Guide
Share
Issue Time

Apr 17,2023
Summary
There are different types of wine cabinets, and today we are going to talk about under-counter wine cabinets. Read on for our guide to under-counter wine cabinets to learn more about them.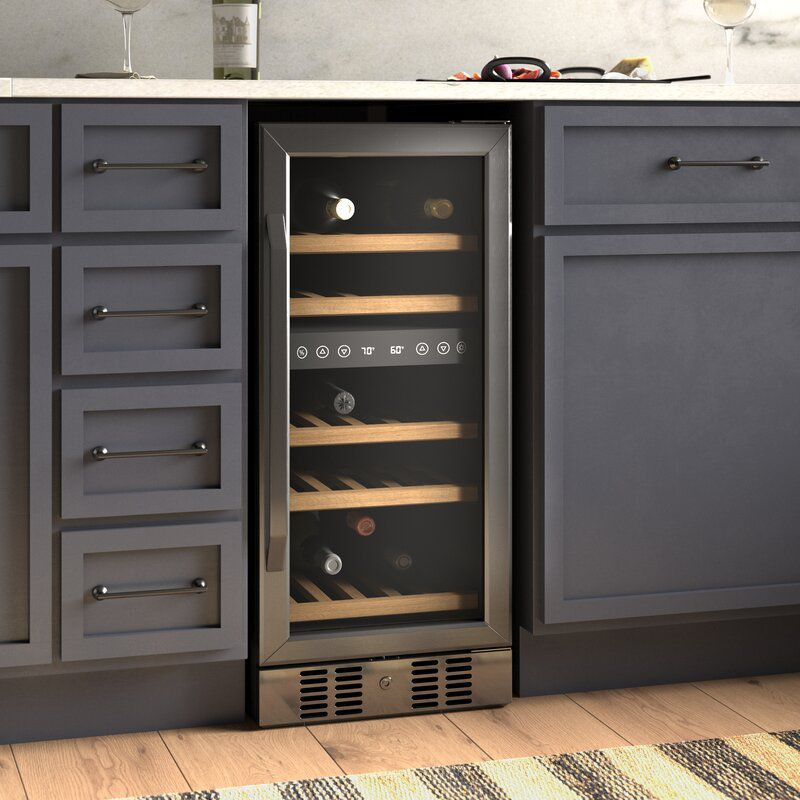 Wine cabinets provide optimal storage conditions for your wine, whether you are storing wine for drinking in the short term or for long-term storage. They keep your wine cool and regulate temperature, regulate humidity levels, protect your wine from the sun, and some wine coolers can eliminate vibrations and aromas.
There are different types of wine coolers, and they are installed in different ways. Today we are going to discuss the under-stage wine cabinet. But what exactly is an under-stage wine cooler? How do I know if an under-counter cooler is best for me? We've got you covered - read on for our under-counter wine cooler guide, including information on common wine coolers, and how to choose an under-counter wine cooler.
Why Not Just Use a Regular Refrigerator?
A wine cooler is a device specially designed for storing wine. You might be wondering why you can't just use a regular refrigerator. First, the average refrigerator is often full of food, which not only takes up space but also makes your wine collection smell off. If you're a wine collector, you don't want your stash to smell like onions or sprouts, do you?
Also, you will most likely be opening the food refrigerator door multiple times a day. Depending on the location of your refrigerator, this could expose your wine to the sun if you decide to store it there. Opening the refrigerator regularly can also affect the internal temperature, which is why it is best to invest in a wine refrigerator.
Your regular fridge may also not have the right humidity level to store your wine, so corks could slip out of place or labels could get wet. Regular fridge temperatures may not be right for your wine either - typically, your fridge should be set at 3℃to 5℃, and your wine collection should be stored at slightly warmer temperatures.
Wine coolers are designed to store your wine optimally, taking into account storage factors such as temperature, sunlight, humidity, and sometimes even movement and aroma. Typically, the wine cooler will stay between 11℃ and 15℃, but you should be able to adjust this yourself using the control panel. Some wine coolers will have dual or multiple temperature zones rather than just one. This means you can store red wine, white wine, and sparkling wine at separate temperatures, or you can have wine ready to serve at one temperature and leave other bottles for long-term storage at another temperature.
A wine cooler also protects your wine from the sun - especially the sun's harmful ultraviolet rays. Exposure to sunlight can cause unwanted and irreversible chemical reactions in your wine that can negatively affect your wine's taste, smell, and appearance. Wine cabinets will either have a solid door to block all sunlight, or a UV-treated glass door to protect your wine from UV damage.
Another thing a wine cabinet does in order to store your wine in the best possible way is to regulate the humidity level. If your storage space doesn't have enough humidity, the corks can dry out and slip out of place, exposing your wine to oxygen. Some wine coolers will use a charcoal filter to eliminate any unwanted aromas. If you plan to store your wine for an extended period of time, you may want to opt for a wine cabinet with a charcoal filter.
What Is an Under-Counter Wine Coolers?
Wine coolers come in three main designs - freestanding, built-in, and fully integrated. Undercounter wine cabinets are often built into the design, but some under-counter wine cabinets may be fully integrated if completely enclosed in the cabinet space.
Freestanding wine coolers are designed to be free-standing and not suitable for storage under kitchen counters. When placing a freestanding wine cooler, you should allow a few inches of space on the sides and rear of the unit, and about 12 inches above the unit for ventilation.
Undercounter wine coolers are designed to fit under counter space. You're probably familiar with under-counter refrigerators or freezers - under-counter wine coolers are designed and installed in a similar way. Undercounter wine coolers are a type of built-in wine cooler because they are designed to be built into your kitchen space - more specifically, beneath your kitchen counter. Typically, they are about 82 cm tall and 50 cm wide. However, you can find wider under-counter wine refrigerators that can store more bottles of wine, which are ideal if you have a medium to large wine collection.
Before purchasing a built-in wine cooler, be sure to double-check the cabinet's dimensions and accurately measure the space under your kitchen counter. Make sure your wine cabinet has plenty of room, and don't forget to measure the depth. If you don't measure the depth accurately, your undermount wine cabinet may protrude out of place - not only does it look bad, it can be inconvenient. Some under-counter wine cabinets may have a special width - you'll find wine cabinets that are narrow enough to hold only one bottle per shelf, while others hold about 10 bottles per shelf.
Undercounter wine cabinets are very convenient as they provide the perfect place to store your wine. All you need to do is reach under the counter, grab a bottle of wine, place it on the counter, and serve! This will definitely save you a lot of time and effort.
Buy a Wine Cabinet from Josoo
Josoo is a professional
custom wine cabinet manufacturer
. Specializing in the production of wine cabinets/beverage cabinets/beer cabinets/humidors/ice makers/dry refrigerators and other kitchen appliances, etc. Products are certified and reported by GS/CE/ETL/ERP/ROHS/REACH/DOE/CB. We have a strong technical team with more than 15 years of experience in the wine cabinet industry, and our products are carefully designed with innovative P and can meet the needs of different customized OEMs. If you want to buy a wine cabinet, welcome to
contact us
.