What is the Average Size of a Wine Cooler?
Share
Issue Time

2023/01/15
Summary
Shopping for a new wine cooler can be intimidating. Here, we break down common dimensions and other features to look for when shopping for a new wine cellar to help you find the right wine cabinet.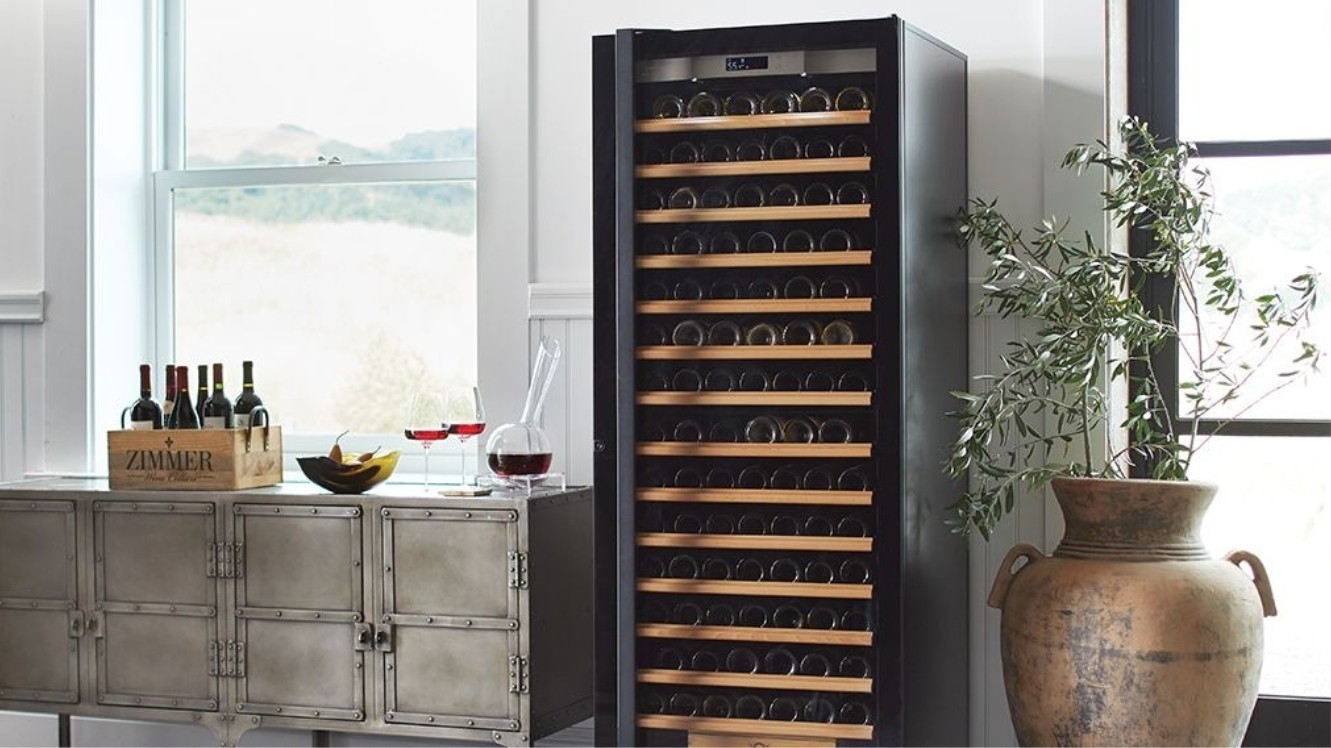 Whether you only have two bottles of wine or two hundred, a wine cooler is a smart storage solution.
A wine cooler is an appliance designed specifically for storing wine. Like kitchen refrigerators, they include wine racks, interior lighting, and a powerful cooling system to keep wine at the ideal temperature for drinking or storage. Wine coolers are available in many different styles and sizes, including freestanding countertop models, built-in mid-capacity models, and larger units that can store hundreds of bottles. Shopping for a new wine cooler can be intimidating. Here, we break down the common dimensions and other features to look for when shopping for a new wine cellar.
The best wine cooler size for you depends largely on the size of your current collection and your buying habits. How you plan to use your refrigerator can also affect the size you should buy. For example, if you have a large wine collection already stored in a traditional wine cellar, you may prefer a smaller wine cooler in the kitchen so you can keep your favorite bottles at drinking temperature. Common wine cooler sizes include:
- XL (30" wide wine cooler): A 30" wine cooler might be the perfect size for someone with a lot of wine. XL wine coolers can hold 188 to 300 bottles or more.
- Medium to Large (24" wine cooler): When people think of a "medium" sized wine cooler, this is what they are most likely to mean. Many 24-inch-wide wine coolers can fit into spaces once occupied by old dishwashers. Medium to large wine coolers can hold 40 to 100 bottles or more of wine. They are available as under-counter or taller units that can be built into cabinets.
- Small (15-18 inch wine refrigerator): Small capacity wine refrigerator can hold less than 40 bottles of wine. Small wine coolers are popular with space-poor residents or those looking to fill the space once used for a trash compactor.
- Micro (countertop wine cooler): The micro wine cooler is small enough to fit on a countertop or tabletop. The small category includes wine coolers that hold 4 to 16 bottles or less.
Other Factors to Consider
Besides size, there are a few other important factors you need to consider. :
- Bottle Capacity: As mentioned above, the amount of wine you plan to store should be considered when purchasing a wine cooler.
- Budget: How much do you want to spend on your wine cooler?
- Appearance: Choose a wine cooler that complements the decor of your space. Do you need to match your wine cooler to your existing equipment?
- Location: Most wine coolers are designed for indoor use. If you're thinking of installing a wine cooler in your garage, basement, or even outside, be sure to buy appliances designed for those spaces.
- Warming Zone: There are two types of wine coolers: single zone and double zone.
- Installation Method: If you want to embed the wine cooler in the cabinet, please be sure to choose the model with a front exhaust. Another option is to buy a unit with a rear exhaust (freestanding), which is not designed to fit into a cabinet.
- Shelves: Wood and wire or some combination of the two are often used to make wine racks in wine coolers. You should also choose a model with an adjustable stand to accommodate oddly shaped bottles, such as champagne bottles or magnums.
- Reversible Door Opening: Reversible door opening allows you to change the opening of the door from right to left. This allows you to install two units side by side or pair a wine cooler with a beverage refrigerator.
- Security: Should your wine cooler have a lock? If there are children in the house, a lockable cooler is often required to keep them out of your wine collection.
The above introduces some tips for choosing the size of the wine cooler if you want to buy a wine cooler, welcome to
contact us
.
Josoo is a professional
custom wine cooler manufacturer
, specializing in the production of the beer cooler/wine cooler/beverage cooler/cigar cooler/ice maker/dry refrigerator, and other kitchen appliances. The products have been certified and reported by GS/CE/ETL/ERP/ROHS/REACH/DOE/CB. We have a strong technical team with more than 15 years of experience in the wine cooler industry, and our products are carefully designed and innovated to meet different customized OEM needs.