Share
Issue Time

Dec 20,2022
Summary
In this article, we'll take you through the features of freestanding and integrated wine cabinets. To help you choose the right wine cabinet for you.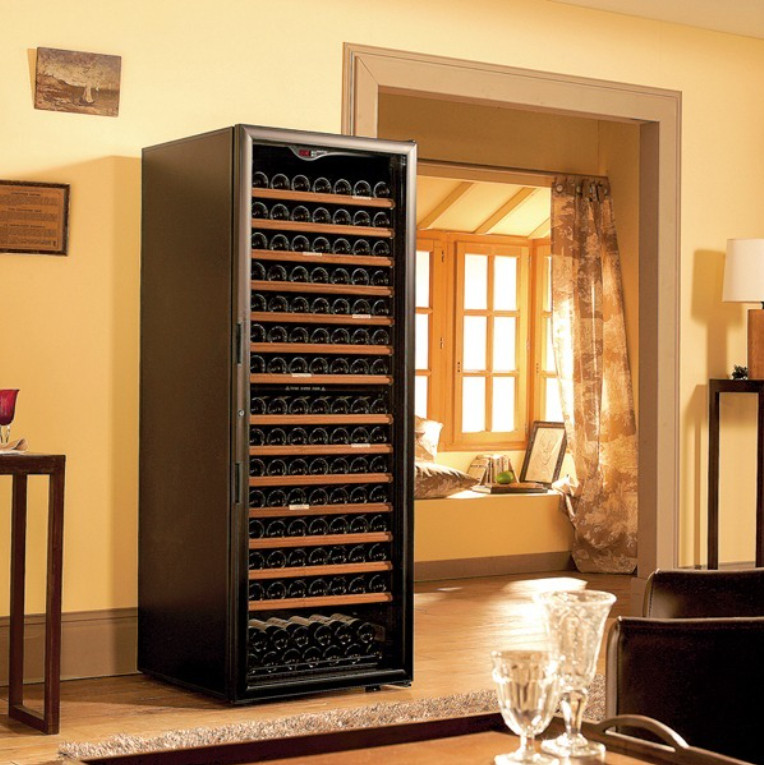 When shopping for a wine cooler, the biggest decision you will need to make is whether the wine cooler is a freestanding wine cooler, a built-in wine cooler, or an integrated wine cooler.
The type you choose will depend entirely on your personal preferences and the space available in your home. Once you have made this choice, you will be able to better understand what you need to enter the market. That being said, it can be difficult to know exactly which wine cooler is right for you.
In this article, we'll take you through the features of freestanding and integrated wine coolers. We'll weigh their pros and cons, outline their differences, and discuss which is cooler and best for which environment. While we can't tell you exactly which wine cooler is best for you and your home, we'll give you all the information you need to make the right decision.
Freestanding wine coolers are designed to stand alone, away from other appliances and fixtures. Due to the location of the vents, freestanding wine coolers need to be placed where there is enough space on the sides and back. There should be at least 3-5 inches of space around the unit for adequate airflow, which is why these coolers are often placed in large rooms like spacious kitchens or garages.
Due to the way the cooler dissipates heat from the back, freestanding units cannot be placed like integrated units. For example, if a medium-sized freestanding wine cooler is enclosed, it can easily overheat and eventually burn out.
Advantage
More freestanding wine coolers available on the market
Easy to install and usually does not require professional help
Provides great flexibility in placement
Easy access to power, ventilation windows, and water outlets
Often less expensive than integrated wine coolers
Convenient if you decide to move or replace furniture
Shortcoming
Tends to be much bulkier than integrated wine coolers
Difficult to integrate seamlessly into your home
Why Buy a Freestanding Wine Cooler?
Freestanding wine coolers are an excellent choice for anyone looking for an instant, easy wine storage solution. If you're struggling for space in your kitchen, you'll benefit from a freestanding wine cooler because you have the freedom to place it in several different locations. The beauty of a freestanding wine cooler is that it's easy to install, low maintenance, often less expensive than a built-in wine cooler, and completely versatile as far as it goes.
Design
There is a wide variety of freestanding wine coolers on the market, designed to suit every home, preference, and budget. Typically, freestanding wine coolers have interior shelves and glass doors. Typically, they are wider and taller in size than built-in models and are capable of holding 150-200+ bottles.
Many freestanding wine coolers have 4-6 shelves to hold wine bottles, while others have 10-15 shelves. If you have a particularly large wine collection, you should consider choosing a taller freestanding wine cooler.
You'll also find freestanding wine coolers with drawers. These drawers cool down more permanent items that don't necessarily require shelf space. Some freestanding wine coolers will also come with reversible doors, giving you more flexibility in where you install the unit.
Positioning and Location
The advantage of freestanding wine coolers is that they are very flexible in where they can be installed. Essentially, they can be placed anywhere in the home as long as the correct ventilation requirements are met. As mentioned earlier, these coolers require at least 3-5 inches of space on the back and sides to keep the unit from overheating.
Some common places to install a freestanding wine cooler include kitchens, garages, and utility rooms. Similar to integrated wine coolers, you need to ensure that the unit is protected from direct sunlight, and vibration and away from doors so that the wine is fully protected.
Built-in or Integrated
Built-in or integrated wine coolers are thoughtfully designed to "build in" to any cabinet, counter, or space in your kitchen. There are a variety of integrated wine coolers on the market, designed to fit the arrangement of the cabinet set.
The integrated wine cooler can also stand free-standing if desired, just like a freestanding. Because integrated wine coolers draw heat from the front of the unit rather than the rear, they can be installed almost anywhere, as long as they're protected from direct sunlight and vibration.
Advantage
Won't spoil the design and aesthetics of the kitchen
Stylish, stylish, and very modern looking
Gives great flexibility in selecting a power supply
Extremely convenient in terms of location when hosting
A built-in freestanding wine cooler can be used (but not vice versa)
Shortcoming
More expensive than freestanding wine coolers
They don't have a maximum bottle capacity, so not the best option for those with a particularly large wine collection
Why Buy Integrated or Built-In?
Integrated wine coolers are known for bringing a truly sleek, seamless finish to the kitchen. They are perfect for those planning or building a new kitchen. Thanks to their front ventilation, they are ideal for full integration into cabinets or under worktops. Integrated wine coolers are perfect for those looking for a refined or understated model that won't ruin your home's decor.
Design
The design of the integrated wine cooler is very different from the free-standing wine cooler. With an integrated wine cooler, it easily hides behind existing cabinets to seamlessly match the decor and style of the room. That being said, integrated wine coolers can also make for a wonderful, unique design feature.
Integrated wine coolers are available in a variety of sizes, shapes, and styles. You'll find built-in wine coolers with doors, double-sided doors, storage drawers, and many without handles. These coolers also often have a clear glass or opaque doors. When choosing an integrated wine cooler, it's important to keep the design and aesthetics of your kitchen in mind to find the best fit.
Positioning and Location
The beauty of integrated wine coolers is that they are designed to blend seamlessly into your home. You can install an integrated wine cooler under a kitchen counter or inside existing cabinets, as long as you have the space to do so. You can also choose a slimmer, taller model to fit with other appliances and cabinetry, which will give your kitchen a very sleek, modern look.
While the most common place for an integrated wine cooler is the kitchen, it's also common to install a wine cooler in a lounge as decoration or in a utility room.
We'd say that if you're planning to install an integrated wine cooler in your kitchen or utility room, you'll want to make sure the unit isn't positioned too close to appliances like a tumble dryer, washing machine, or dishwasher. This is because these utensils tend to move and vibrate when operated, and these vibrations can be extremely harmful to wine.
Cooling Technology for Freestanding and Built-in/integrated Wine Coolers
Both freestanding and integrated wine coolers use two different types of cooling technology: compressor and thermoelectric. Compressor wine coolers use cooling equipment much like a regular refrigerator, including a compressor, evaporator, condenser coil, and refrigerant.
When the compressor starts and pressurizes the refrigerant, the cooler will start. The refrigerant then turns into a liquid, raising the temperature. Compressor wine coolers are much more powerful than thermoelectric wine coolers and are more resistant to fluctuations in ambient temperature. Thermoelectric wine coolers, on the other hand, work through a process called the "Peltier effect."
The Peltier effect works by transferring heat from one side of a device to the other. When the cooler is on, an electrical current is applied across the unit, creating a cool temperature throughout the space.
Thermoelectric coolers are known for being more energy efficient than compressor coolers, and they have a much lower noise output. This is because they require less energy due to the lack of moving parts.
The classification of wine coolers has been introduced in detail above. If you want to buy red wine coolers, please
contact us
.
Josoo is a professional
custom wine cooler manufacturer
, specializing in the production of wine coolers/beer cabinets/beverage cabinets/cigar cabinets/ice makers/dry refrigerators, and other kitchen appliances. The products have been certified and reported by GS/CE/ETL/ERP/ROHS/REACH/DOE/CB. We have a strong technical team with more than 15 years of experience in the wine cooler industry, and our products are carefully designed and innovated to meet different customized OEM needs.