How to Set Up and Maintain a Wine Cooler?
Share
Issue Time

Oct 18,2022
Summary
The setup and maintenance of your wine cooler is something you need to master. Here's how to set up and maintain your wine cooler to help your wine cooler work better.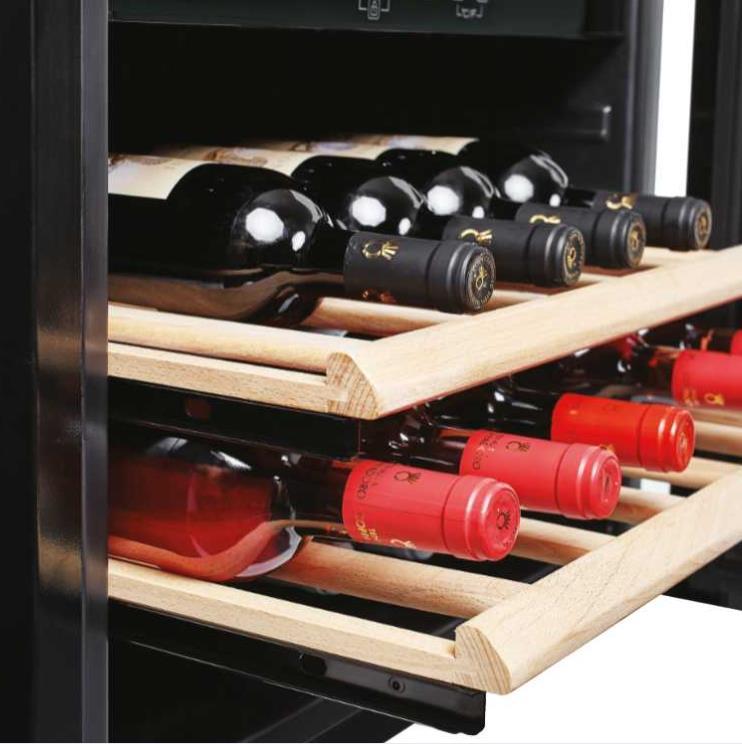 Once you buy yourself a wine cooler, you have to know how to care for it. Setting up your wine cooler is the first thing to make sure you know how to do it. Then, as you figure out the ins and outs of the process, you should learn basic and simple maintenance, as well as any cleaning that needs to be done.
Just like owning a car or a house, if one maintains a wine cooler in the right way, it will pay off in the long run.
Learning how to set up a wine cooler is an important set of steps. As the owner of a wine cooler, there are many steps you need to consider before getting into the installation process. Choosing the ideal location for your new wine cooler is one of the most important points to consider during installation.
Unless it's one of the portable versions, you probably won't be moving it around very often. Choose the location carefully so you don't have to worry about changing it later.
1. For the best storage conditions, please find a flat ground in the space where the wine cooler is placed, and plan to install it there.
2. Do not place the cooler on any slope or where it is easy to fall and break, such as stairs.
3. Another thing to keep in mind, as far as the location is concerned, is to try to keep it as far away from where it will be sitting in any sunlight.
4. Any area that is prone to heat is not suitable for placing wine coolers. Ensuring that the wine cooler is in the correct location is key to reducing any maintenance costs.
As the wine cooler's sweet spot moves, you should avoid placing it on any type of rug. While some people think this is a good place to place a wine cooler so it doesn't damage any hardwoods in the house or office, it's actually best to place your wine cooler on a surface that's easy to clean.
Spills and leaks don't happen often, but when they do, they can eventually lead to major disasters, ranging from mold formation to spoiling wine due to this strong smell.
Since rugs are a common floor surface, many people have no choice but to store their wine coolers on rugs.
If this is the case, buy plastic pads. This is a great insurance option so you won't spoil any surfaces. The plastic mat option is also a good idea if someone doesn't want to ruin their hardwood or tile floors.
Points to remember about wine coolers
1. Keep the wine cooler away from water, dust, or any other environmental factors that may damage the wine cooler. This will ensure the longevity of the wine cooler.
2. If the wine cooler is not upright, the owner must give it at least two hours to settle down before plugging it back in. The coolant in the wine cooler needs to settle down so it can operate at a perfect level.
3. Finally, after purchasing the wine cooler, be sure to let the machine ventilate for a while, then plug it in and put the wine bottle in. Since the smell of a "new wine cooler" can affect the quality of your wine, it's best to ensure that the smell of fresh plastic and painted metal is completely drained from the cooler beforehand.
How to install a wine cooler?
First, it is important to read and understand the instruction manual thoroughly to understand the specifications of your particular wine cooler. If this is not done, the functionality of the wine cooler may be severely compromised.
Second, make sure there is enough space for the cooler to ventilate safely. If a wine cooler's vents are blocked in any way, it will not cool properly, which can severely hinder its operation and cause it to overheat.
To reiterate a point made earlier, double-check the foundations of the wine cooler. Make sure to place it firmly on a surface that won't tip the wine cooler. This can be a very expensive mistake, especially if the wine bottle is already stored inside.
1. Before filling wine with wine bottles, be sure to conduct a running test on the wine cooler. This should be done a few hours before stocking to make sure it's working properly. It also saves you from having to take everything out and then put everything back in the wine cooler.
2. If you plan to mount the wine cooler to a wall or shelf, make sure to secure the attachment as carefully as possible before plugging in the unit. Secure the door carefully and avoid frequent opening to properly analyze whether the wine cooler is working properly. Opening the door frequently will affect the indoor temperature.
Remember to pay special attention to all details. The wine cooler should be installed in a place that is basically the same size as the unit.
Believe it or not, even a few inches can hinder its function and cause general space discomfort. This is especially true if the idea is to use the space of a built-in wine cooler.
Keeping everything in mind in the preparation, installation, and ventilation of the wine cooler will keep the unit running smoothly and well.
Maintain your wine cooler
Generally speaking, wine coolers are very inexpensive to maintain. Because the internal mechanisms are durable, the only parts that need to be replaced or repaired at some point are superficial things that are more prone to failure. These include wiring, interior lights, and other similar components.
1. Be sure to change the water in the drip tray as often as possible to prevent inconvenient mold or water leaks. There aren't any self-draining or draining wine cooler models on the market, so this has to be done manually.
2. Be sure to regularly clean the wine cooler from the inside out to keep it in top condition.
3. Keeping all of these maintenance tips in mind is essential to keeping your wine cooler running. While there can be issues with the cooler, the chances of that happening within the first few years of ownership are fairly low.
Just like any other product that requires regular maintenance, make sure your wine cooler is properly cared for and keep an eye on the cooling mechanism, and your wine cooler will last a lot longer.
Clean your wine cooler
While maintenance is an extremely important part of owning a wine cooler, keeping the equipment clean is there. Here are some tips to keep in mind as you continue cleaning your cooler.
1. Turn off the wine cooler before attempting to clean it. This will minimize the possibility of electrocution. When considering which cleaner to buy, look at non-abrasive cleaning products and cleaners. This will ensure that the cooler doesn't get scratched in the process. If possible, consider making your own mild solution. Searching for these online will be your best bet.
2. Shelves are probably the most important part of a wine cooler other than the mechanism itself and should always be handled with care. If these are damaged, storing the wine bottles will be very difficult and the owner may have to look for replacement racks, which can become expensive.
3. Be sure to pay attention to cleaning the exterior and interior. Keeping the outside of the wine cooler polished will ensure that its shine will last longer.
After a thorough cleaning, be sure to let the cooler air out for a while before putting it back in place.
Final tip:
1. Check for any maintenance issues that attract your attention. As mentioned above, maintaining maintenance is essential to the life of the wine cabinet.
2. Therefore, when cleaning, check all other parts and make sure they are in good working order. If not, take care of them immediately. Don't let problems sit still, because they will only get worse.
3. Generally speaking, wine coolers need to be scrubbed about once or twice a year. Of course, if you use it frequently, or if an accident such as a broken bottle occurs, you should clean it often.
4. Never leave any spills unattended. Like unresolved maintenance issues, leaks can lead to bigger problems that are hard to fix.
5. While it may sound trivial, cleaning is a very important part of owning a wine cooler.
All things considered, the wine cooler setup and maintenance are not serious. With regular maintenance, including cleaning, it will last a long time. If you want to buy or customize a wine cooler, please
contact us
.
Josoo is a professional
custom wine cooler manufacturer
. Specializing in the production of kitchen appliances such as wine cooler / beverage cooler / beer cooler / cigar cooler / ice maker / dry refrigerator. Products have passed GS/CE/ETL/ERP/ROHS/REACH/DOE/CB certifications and reports. We have a strong technical team with more than 15 years of experience in the wine cooler industry, our products are carefully designed with innovative P to meet Different custom OEM needs.